Polson

Lesson Cornerstone:
Riparian buffer of native plants
Curriculum Content Standards: Science
(5) Students, through the inquiry process, understand how scientific knowledge and technological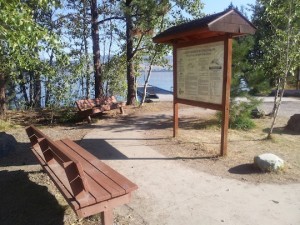 developments impact communities, cultures and societies.
Site Description:
The Walstad Fishing Access hosts a demonstration riparian buffer.
Riparian buffers are areas near water with diverse native plants that help filter polluted runoff from lawns and pavement. This site compares a mature natural buffer to the north and a landscaped buffer to the south, planted to replace lawn in 2000 and 2001.
Trails and Terrain:
A short trail leads through the mature natural buffer to the north. A flat parking lot leads to an island of native plants and paved walkway to an interpretive sign, boat ramp and dock. From the dock, one can view the difference between the natural and landscaped riparian buffers along the shoreline.
Wildlife Present:
Frogs often found in the water to the north of the sign. An osprey nest has been at the site.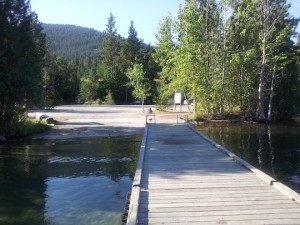 On-Site Educational Programs:
Self-guided interpretive sign.
Seasons:
Open all year.
Access:
Access to the site is 100 feet.
There is ADA access.
Parking and Entrance to Site:
Walstad Fishing Access is located 10 miles north of Polson on Montana Highway 93 at milepost 72.
There is a parking area.
View the Walstad Fishing Access map.
Google Earth Driving Directions:
Group size limits:
None.
Fees:
State parks are free for Montana residents.
Restrictions:
No pets.
Other Suggestions:
Content is best understood by middle and high school students.
Site services:
Lunch spot and restrooms are available.
Contact Information:
Education and Outreach Coordinator, Flathead Lakers, 883-1341
For additional site and lesson plan information:
Montana Fish, Wildlife and Parks

Flathead Lakers: Flathead Watershed Riparian Buffer and Best Management Practices, K-12 Curriculum Framework