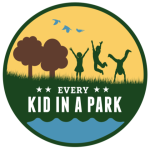 Every Kid in a Park – Fourth graders can download a free pass for their family to see America's public lands.
In collaboration with the Federal Interagency Council on Outdoor Recreation (FICOR), the National Park Service is leading the Every Kid in a Park initiative to help the next generation of park visitors, supporters and advocates create meaningful connections to parks and all public lands and waters.

While NPS is leading this effort, this is an opportunity for kids to visit public lands of all kinds, not just parks.
The initiative will give every 4th grade student and their families across the country a chance to visit a park, preserve or other public lands and waters during the 2018 – 2019 school year.

It is starting with an invitation to the targeted segment of America's 4th graders because we know that children who interact with nature and natural areas before age 11 are more likely to have positive attitudes toward nature and the environment as adults.
Fourth grade is also when many schools are teaching local, state, and national history.
Additionally, we already have targeted programs for 4th graders in many of our parks, and now we want to extend them for ALL 4th graders.
Some of these students will come as part of organized field trips, and others will come with their families and friends and will use a printable pass to get free park access for a year.
Participating agencies in Every Kid in a Park include the National Park Service, Forest Service, Department of Education, Army Corps of Engineers, Bureau of Land Management, U.S. Fish and Wildlife Service, Bureau of Reclamation, and National Oceanic and Atmospheric Administration.
---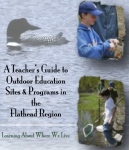 A Teacher's Guide to Outdoor Education Sites and Programs in the Flathead Region – Explore the educational sites and programs available in the Flathead Region for fun and effective field trips in this eBooklet.
Created with teachers in mind, the eBooklet describes the sites and associated educational programs; provides the logistical details for planning the trips; lists the Montana Curriculum Content Standards; and links to additional resources for creating lesson plans.
---
Flathead Watershed Sourcebook, 2nd Edition– This website is a companion to the book of the same title, which together serve as a primer to the Flathead Watershed. Viewed from a bioregional perspective, the project discusses the many people and systems that make up the Flathead Watershed—one of the most biologically intact ecosystems in North America. The Flathead Watershed Sourcebook weds science and art, nature and human nature into an appealing and informative resource for citizens and educators. The menus of this site follow the chapters of the book, making the information widely accessible.  Long-time residents, new community members and visitors will find details of the geography, cultures, natural history and economics of the Flathead Watershed. The full details of the project, its funders, author, and contributors are available when you follow the link to the website.
---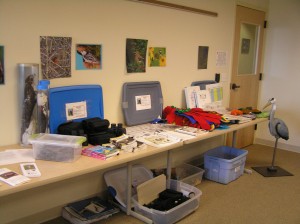 Educational Trunk List 2018– The Flathead region has a number of organizations that make educational trunks available for loan- oftentimes at no charge. The link above is to a pdf document that was assembled by the Flathead CORE of all the the trunks that we are currently aware of. It even contains links to organizations outside the Flathead region for folks willing to do a little more work or who can pay to have a trunk shipped here. These resources are wonderful tools for educators, youth group leaders, home schools, etc. for use in their classrooms.
---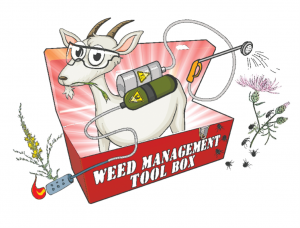 Noxious Weed Management Tips–  This link is a pdf document that provides a contact list of professionals you can contact for help with weed management, tips on how to launder clothes contaminated with herbicide, instructions on how to calibrate a boom and bloomless sprayer, tips on how to read an herbicide label, and photos of Flathead County noxious weeds.
Sponsored by: Flathead Conservation District, The Department of Agriculture, MSU Extension, CHS, Glacier National Park, Flathead County Weed Department, United States Forest Service, and Flathead Valley Community College.
---
Fire Science and Forestry Scholarships and Financial Aid Resource Guide – FireScience.org began in 2012 to provide quality data and information for students pursuing a career in fire science. They provide tools and resources to help students and professionals make well-informed decisions about their education and career training.
Information includes:
Updated scholarships information and financial aid options                                              
Where to find grants and loans that pertain to this field
A list of resources to assist students pursing a degree in fire education


---
Do you have a great resource for educators in the Flathead? Then send a message on the "Contact Us" page so we can add it here.