Columbia Falls

Lesson Cornerstone:
Ecology; stewardship forestry
Curriculum Content Standards: Science
(5) Students, through the inquiry process, understand how scientific knowledge and technological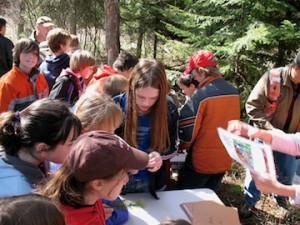 developments impact communities, cultures and societies.
Site Description:
The Trumbull Creek Educational Forest is a 40-acre area owned by Stoltze Land and Lumber Co., established over 20 years ago to display the benefits of stewardship forestry.
Trails and Terrain:
The low-elevation forested site features flat areas and short inclines along a wood-chipped path through the woods. The wide, half-mile trail winds through the center of the 40-acre property. There is a north and south trail entrance. During the Family Forestry Expo event in May, trail entrances are signed. Two wood bridges with rails cross Trumbull Creek. Simple tree identification and area information signs are located along the trail. In addition, there are several larger, more detailed informational signs about the forest environment and forest management.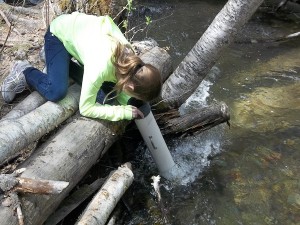 Wildlife Present:
Visitors may spot or see signs of several different animal and bird species within this typical Montana ecosystem.
On-Site Educational Programs:
The annual Family Forestry Expo is held the first full week of May. During the week, area fifth grade classes are invited to participate in a tour of a local mill and visit different educational stations at the expo site. Station topics include archeology, fisheries, plant identification, forest management, wildlife, riparian areas, low impact camping, fire and a Tread Lightly demonstration.
The site is open for self-guided use and exploration with informational signs located along the walking trail; groups have used the site for different outdoor education activities, including plant and tree identification, stream ecology, making use of the site for Project Learning Tree, Project Wild and other environmental education materials/activities.
Seasons:
Open all year.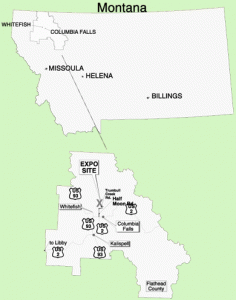 Access:
Access to the site is a short walk.
The wood-chipped trail could accommodate some wheelchairs.
Parking and Entrance to Site:
Travel to the junction of Montana Highway 2 and Highway 40. Travel north on Halfmoon Drive for 2 miles. Turn right on Tamarack Lane. Just past Trumbull Canyon Road (gravel road on your left) will be the parking lot for the expo site.
There is a large gravel parking area.
Google Earth Driving Directions:
Group size limits:
Check with Site Coordinator.
Fees:
None.
Site services:
No facilities available, except during the Family Forestry Expo.
Contact Information:
Site Coordinator, Stotlze Land and Lumber Co., 892-7005
For additional site and lesson plan information:
Flathead National Forest: Educational Trunks