Condon

Lesson Cornerstone:
Three basic forest types in Swan Valley
Curriculum Content Standards: Science
(3) Students, through the inquiry process, demonstrate knowledge of characteristics, structures and function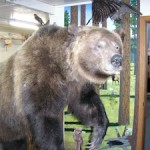 of living things, the process and diversity of life, and how living organisms interact with each other and their environment.
Site Description:
Swan Ecosystem Center developed a mile-long, self-guiding trail near the U.S. Forest Service Condon Work Center. The trail loops into the Ponderosa Pine Site and to a riparian area near the Swan River. Interpretive signs and exhibits help people understand the forces of change at work in the forest. Exhibits in the Everchanging Forest Visitor Center at the U.S. Forest Service Condon Work Center provide information about the local ecosystem.
The Ponderosa Pine Site is a 30-acre plot thinned in 1996 to reduce fire danger and promote a stand of 200-year-old ponderosa pine. These large ponderosa pines are remnants of historic conditions when the valley floor featured scattered, open stands of ponderosa pine and western larch. Several of the trees at the Ponderosa Pine Site are "culturally scarred." Kootenai, Salish and Pend d'Oreille people, who historically camped in the area, removed strips of bark for the cambium, which is sweet. The scars remain to tell the story.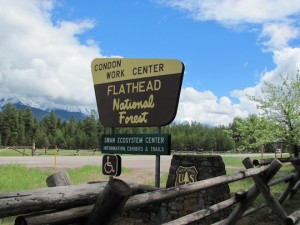 Trails and Terrain:
All trails are signed. Distance varies depending on the trail. Distances vary up to a one-and-a-half-mile loop. The site is almost entirely flat.
Wildlife Present:
Yes, a variety of animals are present.
On-Site Educational Programs:
There are interpretive trails and an exhibit room of the natural resources of the three basic forest types of the Swan Valley.
Seasons:
Open all year.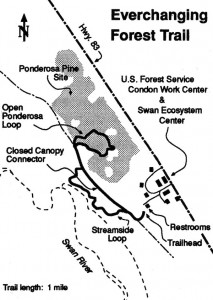 Access:
The Swan Ecosystem Center and U. S. Forest Service Condon Work Center are located right off of Montana Highway 83.
There is ADA access to the visitor's center.
Parking and Entrance to Site:
Take Montana Highway 83 to a distance halfway between mile marker 42 and 43, across from the Condon airstrip.
There is an ample, paved parking lot.
Google Earth Driving Directions:
Group size limits:
The exhibit room can hold about 10 students at a time. The conference room holds 35. Outdoors, the group size limit is up to 50 students.
Fees:
Donations appreciated.
Other Suggestions:
Good walking shoes. No open-toes shoes.
Site services:
Restrooms and picnic tables are available.
Contact Information:
Education Coordinator, Swan Ecosystem Center, 754-3137
For additional site and lesson plan information: