Polson

Lesson Cornerstone:
Bird identification; riparian ecology
Curriculum Content Standards: Science
(3) Students, through the inquiry process, demonstrate knowledge of characteristics, structures and function of living things, the process and diversity of life, and how living organisms interact with each other and their environment.
Site Description:
Safe Harbor Marsh Preserve is an excellent example of a low elevation freshwater marsh within a broader wetland region. When glaciers retreated from this area, they left behind a remarkable array of ponds, sloughs, marshes, fens and lakes. In fact, the marsh is actually connected by a narrow channel to Flathead Lake.  It is also exceptional habitat for birds, making it a great place for birding.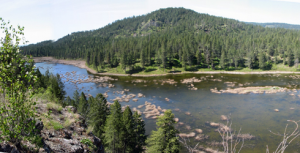 Within the 132-acre preserve, various plant and animal communities radiate out in concentric rings from the open water at the core of the marsh to the rocky cliffs facing Flathead Lake. It also lies within the boundaries of the Flathead Indian Reservation, an area rich in both biological and cultural resources. There are a variety of habitats, from a broad meadow cleared by early landowners to cool fir forests that give way to a community of shrubs and plants as the land becomes drier near the rocky slopes and bluffs. The wetland areas support an array of cattail, bulrush and sedges that attract the preserve's many avian visitors.
Trails and Terrain:
Officially, there are no trails; however, there is a rough trail from the south entrance to the kiosk.  Some other old logging skid trails are walkable.  The terrain is flat to rolling with one area of cliffs.
Wildlife Present:
Birds, mainly water birds; passerines; and deer are present.  There is an occasional black bear.  Please do not linger long within the territory of a singing male bird and never disturb a nest.
On-Site Educational Programs:
There is an interpretive kiosk on site.
Seasons:
Open all year.  In spring and summer, some of the neotropical birds nest in the preserve, and then return south for the winter.
Access:
The Safe Harbor Marsh Preserve is accessed by a paved road.
There is no disabled access.
Parking and Entrance to Site:
From Highway 93, turn left on Rocky Point Road and continue to King's Point Road.  Turn right and travel another 1.5 miles until you reach a gravel turnout marked with yellow Nature Conservancy signs on the north side of the road.
There are small parking areas at two entries to the preserve on the south and the west.  The parking area immediately accesses the site.
Google Earth Driving Directions:
Group size limits:
None.
Fees:
None.
Site services:
No facilities.
Contact Information:
The Nature Conservancy, 837-0066
For additional site and lesson plan information: