Kalispell

Lesson Cornerstone:
Underground aquifers; insects
Curriculum Content Standards: Science
(3) Students, through the inquiry process, demonstrate knowledge of characteristics, structures and function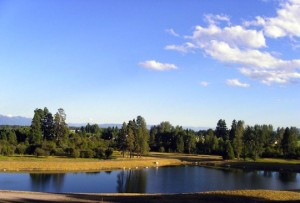 of living things, the process and diversity of life, and how living organisms interact with each other and their environment.
Site Description:
Located off of Whitefish River in northeast Kalispell, Pine Grove Pond was part of a property homesteaded in 1883. Thirteen acres were donated to the Montana Fish, Wildlife and Parks to become a fishing pond in 2011. The pond is 5 acres in size, and is stocked with rainbow and westslope cutthroat trout. This is an excellent fishing pond.
Trails and Terrain:
A gravel road surrounds the pond. The terrain slopes moderately from the gravel road to the pond.
Wildlife Present:
Waterfowl, including Canada geese, mallards and goldeye; white-tailed deer; turkeys; osprey; bald eagles; blue heron; raptors; and songbirds may be sighted.
On-Site Educational Programs:
Hooked on Fishing and other educational programs are available through the Montana Fish, Wildlife and Parks.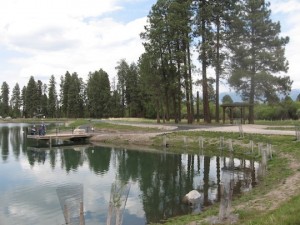 Seasons:
Spring to fall.
Access:
Access is by gravel road off of Rose Crossing.
There is a disabled accessible pier, located approximately 500 feet down the road. Vehicle access to the pier may be arranged if needed. The latrine and picnic shelter are ADA accessible.
Parking and Entrance to Site:
Take Montana Highway 93 to Reserve Drive in Kalispell. Turn east on Reserve Drive and travel one mile to Whitefish Stage Road. Turn north on Whitefish Stage Road and travel one mile to Rose Crossing. Turn east on Rose Crossing and travel a half mile to the signed Pine Grove access road.
There is a graveled parking area suitable for 20+ vehicles and buses.
View the Flathead Family Fishing Ponds map.
Google Earth Driving Directions:
Group size limits:
A special use permit may be required.
Fees:
State fishing access is free for Montana residents. A special use permit may be required.
Site services:
Latrine and covered picnic area are available.
Contact Information:
Biologist, Montana Fish, Wildlife and Parks, 752-5501
For additional site and lesson plan information:
Montana Fish, Wildlife and Parks