Kalispell

Lesson Cornerstone:
Model nesting and foraging habitat for riparian dependent birds
Curriculum Content Standards: Science
(3) Students, through the inquiry process, demonstrate knowledge of characteristics, structures and function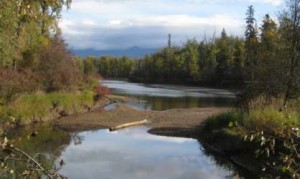 of living things, the process and diversity of life, and how living organisms interact with each other and their environment.
Site Description:
The Owen Sowerwine Natural Area encompasses 442 acres of land, wetland and water in the braided section of the Flathead and Stillwater rivers within the 100-year floodplain. The most striking feature of the area is the dense forest and brush vegetation that provides shelter and browse for numerous wildlife species. In addition to wildlife, the aquatic habitat of OSNA provides excellent foraging and cover habitat for significant numbers of migratory and resident fish. Much of the area is not easily accessible: islands can only be reached by water, and a portion of Leisure Island is behind a barrier of private land. The remaining roughly 70 acres lie on the mainland, along the west shore of the Stillwater, and can be reached by roads that turn east off of Willow Glen Drive. On this mainland portion, a series of game trails have been cleared and marked by the Flathead Audubon Society, which provide opportunity for quiet recreation and nature education.
Trails and Terrain:
All trails are signed. There is a large map on the kiosk, located at the Treasure Lane entrance, and a small version of the map on trifold brochures available at the kiosk.
(1) Mainland Trail (from Treasure Lane to SW entrance): Over half a mile; a narrow, rough trail, with moderately steep to quite steep parts, with some footbridges over wet areas. The initial 600 feet is ADA accessible, with a viewing area at the end of the trail: in one direction, a viewing area overlooks water and into a stand of cottonwoods on the other side; in the other direction, it looks across a meadow.
(2) Green Ridge Trail (from Green Ridge to intersection with Mainland Trail): about 800 feet; narrow, rough trail, with moderately steep parts.
(3) Green Ridge By-pass Trail: about 600 feet; narrow, rough, with some moderately steep parts; some footbridges over wet areas.
Wildlife Present:
More than 100 species of birds have been recorded at Owen Sowerwine and are detailed on the bird list on the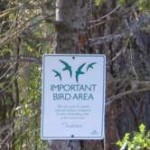 trifold brochure available at the kiosk. White-tailed deer, mountain cottontail, beaver, muskrat, red fox, coyote, river otter, striped skunk, mink and other weasels frequently visit. Black bear and moose occasionally visit. Amphibian and reptile species present include western toad, painted turtle, two species of garter snake and rubber boa. A variety of fish species, including the native species westslope cutthroat and bull trout, are present in the river sections.
On-Site Educational Programs:
Nature education events can be arranged through the Flathead Audubon Conservation Education Coordinator.
Seasons:
Open all year.
Access:
There are 4 entry points:
(1) at the end of Treasure Lane,
(2) at the end of Green Ridge Drive,
(3) at the southwest corner of the Natural Area
(4) and, unofficially, the Kalispell Montessori School parking area.
The first three access points require entering through a walk-in-only gate. The Treasure Lane entrance has an ADA accessible gate.
Parking and Entrance to Site:
(1) Treasure Lane: Parking area has room for about 2-3 cars. Best to drop people at the entrance, then park in the Kalispell Montessori school parking lot. Arrangements must be made with the school by calling 755-3826. Entrance is about 20 feet away at the end of Treasure Lane.
(2) Green Ridge: Parking area has room for 2 or 3 cars along the end of Green Ridge Drive. Best to drop people off and park elsewhere. Entrance is about 20 feet away from the end of Green Ridge Drive.
(3) SW entrance: Parking area has room for 5 or more cars in county right-of-way west of the entrance. Entrance is about 200 feet away.
(4) Montessori School parking area: Arrangements must be made in advance; however, this parking area may be used to enter OSNA. The trail is about 50 yards away, and leads directly to the shore of the Stillwater River. This trail is on private land. Please contact the school at 755-3826 for permission.
View the Owen Sowerwine Natural Area map.
Google Earth Driving Directions:
Group size limits:
No maximum number set; prefers groups less than about 20.
Fees:
A State Land Recreational Use permit is required for anyone 12 years or older. However, for events co-sponsored by Audubon, no permits are needed.
Restrictions:
Only walk-in use is allowed; pets, fires, over-night use, and gathering of natural materials are not allowed.
Site services:
No services available.
Contact Information:
Education Coordinator, Flathead Audubon, 755-2773
For additional site and lesson plan information: