Kalispell

Lesson Cornerstone:
Forest ecosystems; water as matter; insects; outdoor survival
Curriculum Content Standards: Science
(1) Students, through the inquiry process, demonstrate the ability to design, conduct, evaluate, and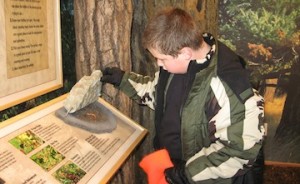 communicate the results and form reasonable conclusions of scientific investigations.
(2) Students, through the inquiry process, demonstrate knowledge of properties, forms, changes and interactions of physical and chemical systems.
(3) Students, through the inquiry process, demonstrate knowledge of characteristics, structures and function of living things, the process and diversity of life, and how living organisms interact with each other and their environment.
(4) Students, through the inquiry process, demonstrate knowledge of the composition, structures, processes and interactions of Earth's systems and other objects in space.
(5) Students, through the inquiry process, understand how scientific knowledge and technological developments impact communities, cultures and societies.
(6) Students understand historical developments in science and technology.
Site Description:
Located minutes from Kalispell, Lone Pine State Park offers a visitor center filled with interactive interpretive displays, educational programs, hiking and scenic overlooks viewing Flathead Valley.
Trails and Terrain:
There are a total of 7.5 miles of trails in the park. The longest trail is 1.5 miles long; however you can make your hike as long or short as you like. All primary named trails have directional signage at most trail intersections. A detailed map of the park, including park entrances, roads, trails, and trail signage can be downloaded from their website.
Wildlife Present:
There are frequent sightings of white-tailed deer, many bird species, rabbits, and squirrels. There have been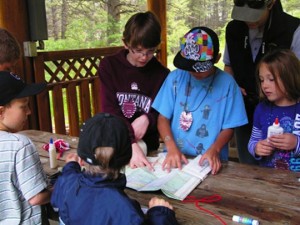 annual sightings of black bear and mountain lion; however, these species typically do not stay in the park for an extended period of time.
On-Site Educational Programs:
Lone Pine offers children's nature programs; adult workshops; special events, including National Trails Day, National Public Lands Day, National Winter Trails Day, Star Gazing, and Raptor Day; guided interpretive hikes; and children's day camps. In addition, Lone Pine presents the following age-targeted topics for school field trips: Trees and Forest Ecology 1 & 2; Forest Habitat; Insects; Skins, Skulls and Bones; Water Ecology; Survival Skills; and Consumerism.
There is a self-guided interpretive trail that guides you around to the three scenic overlooks. The hike may be teacher-led; however, a guide may sometimes be provided. The visitor center also provides displays that are self-guided. An interpreter is on site to provide additional interpretation and information.
Seasons:
Open all year with school programs available in the spring and fall.
Access:
Lone Pine Visitor Center is accessed by paved road. Trailheads are located directly off of both parking areas and the walk-in entrance.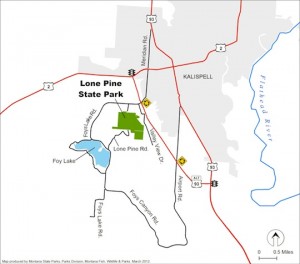 The visitor center provides disabled access. In addition, there is one ADA approved trail leading to the first scenic overlook.
Parking and Entrance to Site:
Lone Pine State Park is located four miles southwest of Kalispell. Travel on Highway 93 Alternate to the Foy's Lake Road Roundabout. Travel west on Foy's Lake Road for approximately 2.7 miles. Turn left on Lone Pine Road and follow to the park entrance at the end of the road.
There are two developed parking areas and one walk-in entrance. The walk-in entrance is located off of Valley View Drive and can be used to drop students off for hiking up Lone Pine. The lower parking lot is located further down Valley View Drive, although there may not be space for bus parking. The main parking lot is located inside the main park entrance at the visitor center with ample space.
Google Earth Driving Directions:
Group size limits:
A typical group size is less than 30 students, or one class. Accommodations may be made for groups over 30; however, the group will be split in two.
Fees:
State parks are free for Montana residents. School field trip programs are free, unless held outside the school year.
Site services:
Flush restrooms and a vault toilet are available. The picnic shelter and community room may be available upon request.
Contact Information:
Lone Pine State Park, 755-2706
For additional site and lesson plan information: