Kalispell

Lesson Cornerstone:
Fisheries
Curriculum Content Standards: Science
(3) Students, through the inquiry process, demonstrate knowledge of characteristics, structures and function of living things, the process and diversity of life, and how living organisms interact with each other and their environment.
Site Description:
This secluded two acre pond is located just south of Flathead Valley Community College.  The pond is open to family fishing; anyone can fish.  Adults 15 and older must release their fish.  The pond is stocked with assistance from the Edgerton School.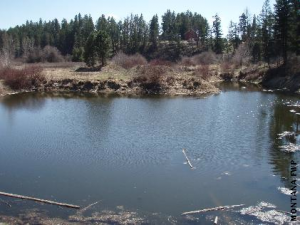 Trails and Terrain:
There are several gentle spots on the bank. Much of the bank is steep and requires some care.  The approach to the entrance of the pond through the culvert is steep.
Wildlife Present:
Westslope cutthroat trout, kingfishers, ducks and turtles may be present.
On-Site Educational Programs:
Hooked on Fishing and other educational programs are available through the Montana Fish, Wildlife and Parks.
Seasons:
Open all year.  The best fishing is late May to June.
Access:
The Buffalohead Pond Park is located 150 yards from the parking area.  The park is accessed through a big culvert that goes under Grandview Drive.  Enter the culvert along the edge of the parking lot in the treed area to the south of the parking lot.
There is no official ADA access.
Parking and Entrance to Site:
From Highway 93, turn onto Grandview Drive.  Turn into the Glacier Church parking lot.
Parking access is provided by Glacier Church.  There is ample parking.
Google Earth Driving Directions:
Group size limits:
A special use permit may be required.
Fees:
Kalispell City Parks are free to city residents.  A special use permit may be required.
Site services:
None.
Contact Information:
City of Kalispell Parks and Recreation, 758-7849
Biologist, Montana Fish, Wildlife and Parks, 752-5501
For additional site and lesson plan information:
Montana Fish, Wildlife and Parks