Whitefish

Lesson Cornerstone:
Stream and lake ecology; tree and plant identification
Curriculum Content Standards: Science
(3) Students, through the inquiry process, demonstrate knowledge of characteristics, structures and function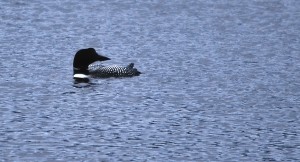 of living things, the process and diversity of life, and how living organisms interact with each other and their environment.
Site Description:
The Tally Lake Campground and Day Use Area is nestled in the highlands of northwestern Montana, adjacent to Tally Lake, which is the deepest natural lake in Montana. It sits in a mature forest of Western Larch and Douglas fir trees.
Trails and Terrain:
The trailhead for the 3-mile Tally Lake Overlook Trail is located within the campground, about a half mile north of the day use site. There isn't room for bus parking at the trailhead, though students could be dropped off and the bus could park in the day use lot. The trail offers great views of the lake. There is a short trail that connects the day use site to the group pavilion. A bridge crosses over Logan Creek, which runs through the campground and day use site. The day use site terrain is a flat, open, mowed grassy area about 200 feet from lakeshore.
Wildlife Present:
A variety of different bird species (songbirds, waterfowl, bald eagles, woodpeckers, loons); different fish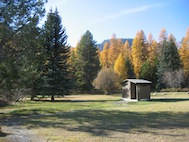 species in the lake (kokanee salmon, northern pike, lake and brook trout); deer, snowshoe hare, and an occasional moose can be seen.
On-Site Educational Programs:
There are three wildlife interpretive panels and a spotting scope near the beach site. The Forest Service can provide simple tree and wildflower identification handouts, wildlife viewing guides and species lists. Teachers can make arrangements for a Forest Service conservation education specialist to assist a group with outdoor education activities. Call well in advance to schedule.
Seasons:
May to September.
Access:
Access from the day use site to the lakeshore is 200 feet.
The boat dock, packed gravel road/paths, and vault toilet are ADA accessible.
Parking and Entrance to Site:
From Whitefish, take US Highway 93 North ten miles, turn left onto Farm to Market Road. Travel 1.5 miles, turn left on the Star Meadows Road and travel nine miles. Turn left onto Forest Road #913 and travel about 3.25 miles. Look for the Tally Lake Campground sign. From Kalispell, take Farm to Market Road north to Forest Road #913. Turn left and travel about seven miles north to the campground.
There is ample parking.
View the Tally Lake Campground map.
Google Earth Driving Directions:
Group size limits:
Group sizes limited up to 100.
Fees:
The campground and day use site are operated by a private concessionaire and there is a fee for using the day use site and for reserving the group pavilion. Contact the Tally Lake Ranger District for more information at 758-5204.
Site services:
Places to picnic, potable water, and vault toilets are available.
Contact Information:
Conservation Education Specialist, US Forest Service, 758-5218.
For additional site and lesson plan information: