By: Ansley Ford
Fall is a delicious time of year in the Flathead Valley! Farms and gardens are overflowing with the summer's bounty. Melons, apples, potatoes, squash, and many other colorful, nutritious fruits and veggies are ripe for the picking. Whether you're harvesting from your own backyard garden or taking advantage of the bounty of local farms at area farmer's markets, there is nothing like eating fresh, hand-picked produce!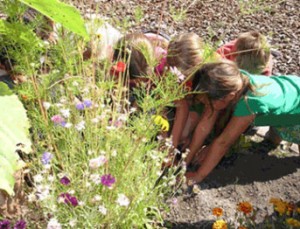 Most of us know how much fun it can be to grow a garden, but do you know how wonderful it can be to "grow a gardener? Those of us with children, young neighbors, and students are well aware of the joy and awe young people experience when introduced to new aspects of nature. Exploring plant and food growth can be an amazing experience for a child. The wonder they show when discovering a potato or carrot that developed from the seed they planted many months ago is incredible!
Students at Lakeside Elementary School in Lakeside recently discovered the joys of harvesting. The harvest was especially rewarding considering that their organic garden was no more than a barren, rocky field before they began their project. The students spent many days last spring designing, building, digging, hauling, and finally planting in their new garden! Each class decided which fruits, vegetables, and flowers to plant, and then sat back and watched as their beloved plants grew, and grew, and GREW! The courtyard now sports cheery sunflowers over 6 feet tall, a lovely young apple tree, and lots and lots of delicious, healthy vegetables!
Fourth graders spent one afternoon this fall with their third grade teacher, going back to the garden for the much awaited harvest. The looks on their faces were priceless as they dug up potato after potato! With dirty fingernails and squeals of excitement, the children and their teacher then made their way to the school kitchen where they proceeded to turn their harvest into a delicious batch of healthy smashed potatoes! The meal got a thumbs up from everyone, and there was even enough to share with a younger class. The younger students eagerly talked about their turn to plant potatoes next spring!

Are you hungry yet? I hope so! Now it's time to get out there and enjoy the bounty of the Flathead Valley this fall! Take a youngster by the hand and share the joys of Harvest!